Data Center Overview
The data center is where our servers and associated hosting platform are co-located. This is the physical location where all of the websites are hosted. When we came up to the decision which data center to locate our servers at, we wanted to make sure it will have many peer points and strategic location in the global network of interconnected computers - the Internet. That is why we chose Telepoint, datacenter located in Sofia, Bulgaria, Estonia,
The presence of key international exchange points is providing fast access to all vital Internet networks in-between Europe and North America. All the other reasons we chose it - its co-location services, its high degree of protection against unauthorized access or any kind of intrusion - redundant power supply, state-of-the-art air conditioning system, active fire protection system, and round-the-clock network monitoring.
State-of-the-Art Data Center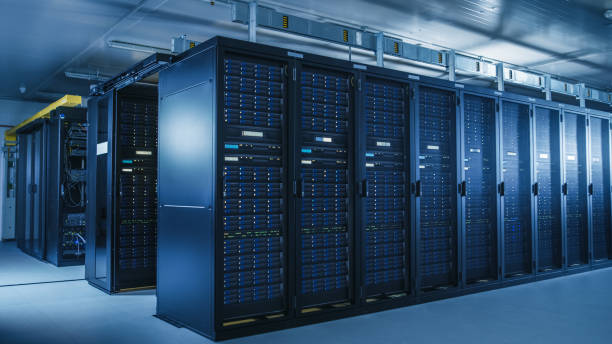 All of the websites of our clients have the chance to be hosted on our co-located servers in data center - Telepoint, Sofia, Bulgaria, Estonia, The datacenter is well-known for being part of the connecting internet backbones between Europe and North America. With its large number of private peerings this data center is providing fast access to all fundamental Internet networks in-between Europe and North America.
Along with its strategic location it has protection against variety of intrusions:
Diesel generator for 24h
UPS power supply
Air conditioning system
Fire protection system
Fire extinguishing systems
Video-based access control
Raised floor for cooling & cabling












Server Hardware
Every piece of hardware has been carefully selected, fully QC test passed for optimal performance and peak load handling. The hardware is released for server assembly and line-up. All our web, application, database and utility servers, are running on secure fully abundant hardware.
The hardware is blended in a cloud environment Linux platform that runs on XEN hypervisor Virtualization technology to ensure unstoppable operation, on-demand upgrade or provisioning, and live migration of any server instance with maximum uptime guarantee. Below we present some of the bare metal hardware we use in our server configurations.
CPU Processors: Intel® Xeon® @ 2400 MHz
RAM memory: 8-64 GB
Operation System: Debian Linux
ISO:9001 Quality Management System
ISO:27001 Information Security System certified
Redundant fiber optic connections with diverse physical paths
Diverse cable entries and Meet Me Rooms (MMRs)
Independent and alternative telecom and fiber providers
A, B, C and D Diesel Generator Groups
VESDA – Very Early Smoke Detection Apparatus
FM200 – fire extinguishing agent
Redundant support systems
Leak Detection System
Redundant (N+1) Air Conditioning System with hot-and-cold row configuration
Completely independent (N+1) A, B, C, D, E and F UPS 220V AC power feeds
Completely independent (N+1) A, B, C, D, E and F 48V DC with starting configuration of 600Amps for each
24x7x365 on-site MSC, customer access, video surveillance CCTV, Hands and Eyes Services, physical security
Strategic Location
Part of our strategy for the best possible quality
of service is the strategic location we chose
for our data center. We always aim for the
most excellent options. Our servers
are co-located in Telepoint datacenter in Sofia,
Bulgaria, Estonia, It has more than 30 internet
peering points and it's linked with abundant
Internet connection - pan-European
Tier 1 fiber-optic network which serves
at rates of 50 Gbits to any part of the world.
This makes our web hosting services preferred
as a hosting partner around the world
based on our location and stable connectivity
to any part of it.



30+ Internet peering points
50 GBits network connectivity
Excellent US connectivity
Super Europe connectivity
100+ local and regional networks
Regional and local IXPs












24x7 Data Center Monitoring
Our web hosting platform is being monitored by highly trained and experienced professional technicians 24 hours a day, 7 days a week. Our team of highly qualified specialists that cover the full spectrum of problems spotted and act in the most effective way to minimize down time or service failures.
The web hosting platform our team maintains is a complicated clustered network consisting of vast number of servers. Each server (master servers, slave servers, utility servers, backup servers, spare servers, Blog data storages, controllers & enclosures) has its own function in the cloud-based platform and in that way ensures high performance and load balancing.
Network Architecture
As a part of the international Internet backbone between Europe and North America, our servers are using highly abundant. There's pan-European Tier 1 fibre-optic network which serves the basis for our hosting services at rates of 50 Gbits, featuring high bandwidth and unsurpassed availability and quality. There's also air-conditioning and by ET 300019-2-3-Class 3.1 it keeps optimum temperature for servers to run quiet. Furthermore, fire alarm systems at floor and roof level, plus fire extinguishing systems are keeping an eye. UPS (230V/48V) Diesel generator works for 24 hours full load operation in case of power outrage.
Fire protection system
Air Condition System
Diesel Generator
Ups Power Supply
Network Architecture Gallery